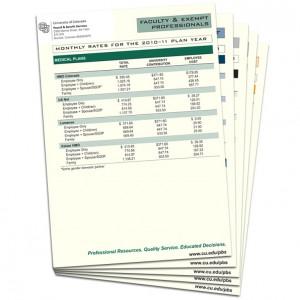 Rates for CU benefits plans were made available this week, allowing faculty and staff to complete enrollment by a 5 p.m. May 21 deadline.
Online enrollment, as well as information on various benefit plan options, is available at www.cusys.edu/pbs/openenrollment. Classified staff members who are enrolled in State of Colorado medical or dental plans must enroll during open enrollment or coverage will end June 30.
"Everyone is encouraged to not wait – enroll now," Cindy Corwin, director, Human Resources said. "Additionally, faculty and staff members who participate in flexible spending accounts for health or child care, need to select annual contributions. These accounts are an important part of managing your health care expenses and stretching your dollar."
Overall costs for insurance increased between 5 and 17 percent and differ between plan options, according to Gina Trujillo, director, Benefits Administration. CU increased its contribution to employee insurance coverage by 5 percent with the balance of insurance increases paid by employees. For faculty and staff participating in the Kaiser Permanente HMO, the employee portion of the increases are modest – less than 4 percent. For faculty and staff who participate in HMO Colorado, however, potential rate increases are considerably larger, in some cases as much as 25 percent.
To see the rates charged for each plan, visit https://www.cusys.edu/pbs/openenrollment/rates.html.
Questions about benefits should be directed to Lisa Callaway, benefits administrator, 255-3607 or lisa.callaway@cusys.edu.